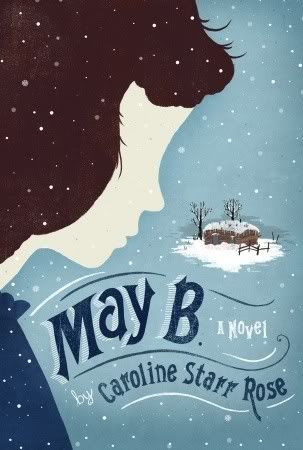 Title: May B.
Author: Caroline Starr Rose
Publication Date: 10 January 2012
Publisher: Schwartz & Wade
Source: Won from Born Bookish
Summary (courtesy of goodreads.com):
I've known it since last night:
It's been too long to expect them to return.
Something's happened.

May is helping out on a neighbor's Kansas prairie homestead—just until Christmas, says Pa. She wants to contribute, but it's hard to be separated from her family by 15 long, unfamiliar miles. Then the unthinkable happens: May is abandoned. Trapped in a tiny snow-covered sod house, isolated from family and neighbors, May must prepare for the oncoming winter. While fighting to survive, May's memories of her struggles with reading at school come back to haunt her. But she's determined to find her way home again. Caroline Starr Rose's fast-paced novel, written in beautiful and riveting verse, gives readers a strong new heroine to love.
May B. is the first novel written in verse that I have read in a number of years. I don't really have a standard to judge it against, because I don't think it would be fair to compare it to the prose fiction that I normally read. Truthfully, the two cannot be compared, as the storytelling and effect on the reader are completely different. Since the reading experience was so new to me, I'm just going to wing it while writing this review, and hope that I can get across how much I enjoyed the story.
The few novels in verse that I have read have all been pretty quick reads, and May B. is no exception. Sure, the book is 300 pages, but those pages aren't as full as with a regular fiction novel. I think this is what bothered me for so long about verse writing. I always thought it was kind of cheating your way into having written a WHOLE BOOK instead of just a story. But reading May B. I can see how much more effective it can be at telling certain stories and conveying certain feelings to the reader. May's story was well told in this format, and I'm not sure her emotions and feelings of dismay at her situation would have come across as well in a more traditional format.
The downside to this way of storytelling is that things happen so quickly it can be difficult to connect. As I was reading, events were occurring in such a succinct manner that I didn't think I felt invested in the story at all. But 3/4 of the way through I found myself gasping out loud, telling my cat, "She wouldn't!" I don't normally talk to my cats about the books I read, mostly because they prefer to sit on them rather than read them, and then there's that whole thing about them being cats and not being able to talk back (tragic). So if I'm so moved by something that I just have to talk about it - even if it is after midnight and the only one to talk to is my poor, unknowing cat - that's pretty great. The emotional connection to the story kind of snuck up on me, and I didn't even know how invested I was until that moment.
I also don't think I would have enjoyed May B. as much if it hadn't been written in verse. While I do enjoy a good historical fiction novel every now and again, this is not a time period I would normally be interested in. But because of the way it was written, the focus was on May and her story, and less on building the setting and filling in the details that prose fiction requires. And for me, and I think for many of the readers in the age group May B. was written for, that was perfectly alright.
Rating: